Group activity: Guided Mountainbike Tour - "Weiler-la-Tour"
A great tour for adventurers, nature lovers and ambitious riders alike; take a trip on the wild side, soak in the sights and explore the red rock region.
Attention: The ticket price applies per group and not per person. All group tickets can also be booked for individuals. If you always wanted a personal coach, then this is the one for you
Take a trip through the stunning countryside
Tour length: 21 KM
Easier difficulty compared to other trails
Guided tour
In case of questions, call +352 2754 5991
Work on your technique
| | |
| --- | --- |
| Included | A trained guide will accompany you and your group on your adventure. Together, you can work on your technique and tackle new challenges. So even if you know the signposted trail and took it solo already, the guided tour can help you break new ground. |
| Not included | Bikes not included. Mountainbikes can be rented; please contact the Office Régional du Tourisme Sud to arrange for bikes. |
| Duration | 2 Hours |
| Bring along | Please remember to wear weather-appropriate clothing. |
| Participants | Group ticket, maximum 12 participants |
| Categories | Cycling, Sport |
| Languages | English, French, German, Luxembourgish |
| Opening hours | |
| Requirements | Minimum age of participants: 16 years |
| Important information | This ticket is valid for a group of up to 12 participants; all participants need to be at least 16 years old. |
| Additional information | 5cb8613b191d9_redrock-mountain-bike-trails-2018_vf_version-d |
Venue
Sporting hall, Weiler-la-tour
Hall Sportif Weiler-la-tour, Rue de Luxembourg, 5772 Weiler-la-Tour, Luxembourg, Luxembourg District, Luxembourg
Parking available on-site
Weiler-la-Tour, Pekebierg (bus)
Offered by
Office Régional du Tourisme du Sud asbl
5772 - Weiler-la-Tour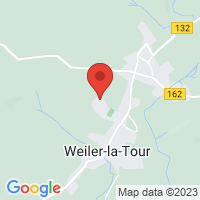 Further information
Take a ride on the wild side - enjoy one of the more accessible MTB Trails
The Weiler-la-Tour bike tour is a great trip for bike enthusiasts and nature lovers! The mountain bike trail in Weiler-la-Tour is not only for amateurs but for ambitious drivers who want to enjoy the countryside, too. The tour leads over longer country lanes and through short sections of the forest with a few steep ascents and descents. Some trail sections increase the technical difficulty and condition requirements on the route.
On your way through the villages you will discover one or other touristic attraction, such as the Castle of Aspelt. But be careful with the younger riders, because the trail includes some main roads.
Our trained guide can accompany you and help you discover the trail in a completely new way; work on your technique and learn how to engage difficult terrain at speeds hitherto thought impossible. Find out how these guided tours have something in store even for bikers who know the trails by heart.
For additional time options, please contact the ORT Sud (+352 27545991)
More offers from this partner