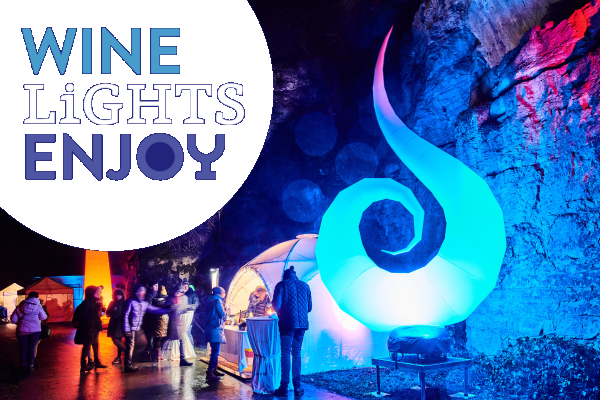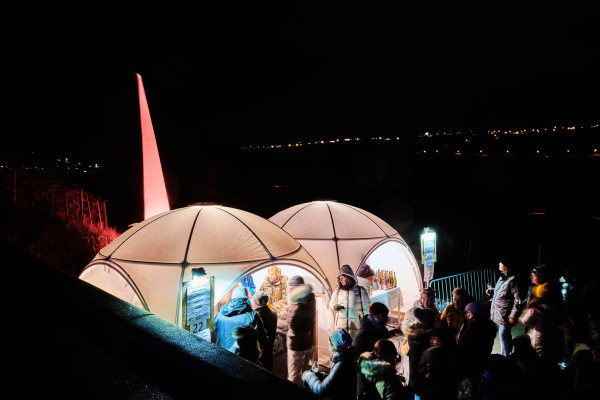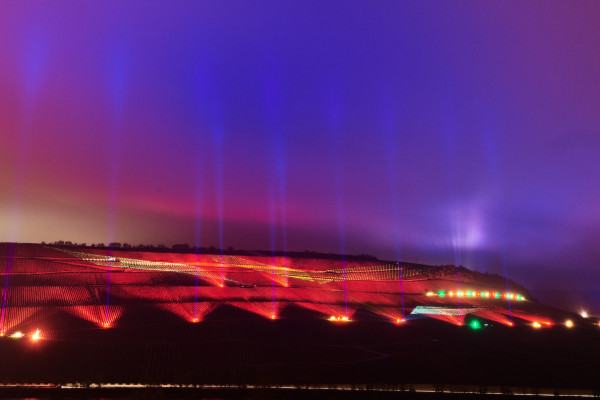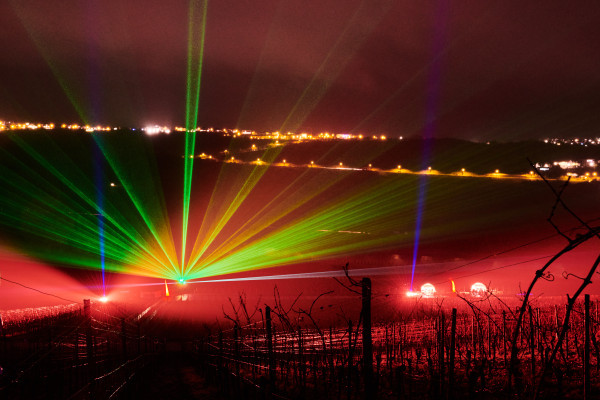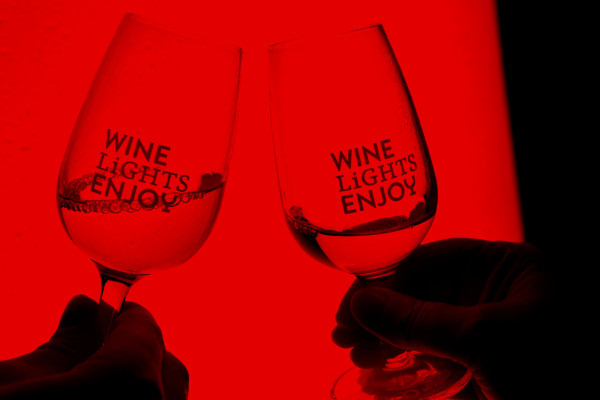 On 2. and 3. December 2022, a special open-air wine event will take place in the Luxembourg Moselle region between Wormeldange and Ahn. Secure your tickets here now!
Night hike with open air wine tastings from various wineries
Spectacularly Illuminated vineyards
Family friendly - Visit from St. Nicholas
Duration: 17:00 to 23:00
Included

Tasting Ticket: Admission for 1 person from 16 years + 1 wine glass + 15 wine tasting vouchers

Group Ticket: Discounted Tasting Ticket for groups of 10 people or more

Entry Only Ticket: Admission for 1 person aged 12 and over (NO wine tasting vouchers, NO glass)

Free Ticket (for Kids): Admission for 1 child from 0 to 11 years inclusive (NO wine tasting vouchers, NO glass)

Not included

All ticket categories except the Tasting Ticket and Group Ticket do not include a glass.

Replacement glasses are not included in the ticket price of the Tasting Ticket. In case of breakage or loss of a glass on site, 5 wine tasting vouchers can be exchanged for 1 new glass.

Duration
6 Hours
Important information

ORGANISATOR: Office Régional du Tourisme - Région Moselle Luxembourgeoise a.s.b.l.

VALIDITY: All tickets booked are valid only for the one day booked and are not transferable to another day. This also applies to wine tasting vouchers.

CANCELLATION POLICY AND CANCELLATION CONDITIONS: This ticket is NON-REFUNDABLE i.e. once booked there is no possibility for any cancellation, change or compensation.

Please bring a valid identity card.
Further information
Throughout 5 kilometres, the beautiful Moselle wine landscape between Wormeldange and Ahn will shine in a spectacular play of light and colour from 17:00 to 23:00. Numerous wineries and associations offer selections of their local wines and specialities of the region on more than 20 stands. A unique experience for the whole family, couples, friends, colleagues and everyone who wants to experience the Luxembourg Moselle, its winegrowers and of course the excellent Luxembourg wines and Crémants.
SECURE YOUR TICKETS AT THE EARLY - BIRD PRICE UNTIL SUNDAY 20.11.22!

TICKET PRICES:
TASTING TICKET (admission 1 pers. + 15 wine tastings + 1 glass)
Early-Bird:                                                                                                     35,00€
Regular:                                                                                                          45,00€
GROUP TICKET (Tasting tickets for 10 or more people)
Only available at Early-Bird rates:                                                              32,00€ per person
ENTRY ONLY TICKET (admission 1 pers. from 12 years)
Early-Bird:                                                                                                     15,00€
Regular:                                                                                                          20,00€
FREE TICKET(for children incl. 11 years):                                                      0,00€

CONDITIONS & IMPORTANT NOTES:
CANCELLATION RIGHTS: This ticket is NON REFUNDABLE or MODIFIABLE.
VALIDITY: All tickets booked are valid only for the one day booked. This also applies to the wine-vouchers.
Further details on the conditions can be found below on this page under "Other information"
FAQ's

This is how the booking works:
After payment, you will receive an e-ticket (electronic ticket) with a QR code by email. Please bring this e-ticket printed out, or on your mobile device to one of the 3 entrances on the day of the event. If you book more than 20 tickets, you may have to add the quantity to the shopping basket separately several times. The total quantity will be added up.
If you have any questions about booking, please contact booking@visitmoselle.lu.
This is how admission works:
You can enter the event between 17:00 and 22:00 at one of the three entrances. There your e-tickets will be scanned, redeemed and thus validated. Please bring a valid identity card. If the e-ticket is redeemed, its validity will expire. Once you have redeemed your e-ticket, you will be given the voucher for the wine tasting and will be granted admission to the event area.
At the entrance you will also receive your admission wristband, which must be worn undamaged and visibly throughout the evening.
This is how the wine tastings and catering on site works:
You can redeem the vouchers for wine tastings at the winegrowers' stands. A standard wine tasting worth one voucher contains 5cl. For premium wine products, the winemakers reserve the right to charge more than one voucher per wine tasting.
Food, as well as soft drinks and hot drinks (if applicable), can be purchased for cash at the food stalls.
This is how the parking and transport works:
Participants are requested to use the car parks in Dreiborn, Ehnen and Grevenmacher and take the shuttle bus there. Further details will be available from November onwards on the following page: https://wle.visitmoselle-event.lu/
Is it possible to walk the entire route as a circular walk?
Yes, you can walk the whole route as a circular walk. At the respective entrance, you only have to show your (undamaged) admission band and you will be let through.
What is the duration of the event?
From 17:00 - 23:00. Participants are asked to leave the event premises at 23:00.
FURTHER INFOS: https://www.visitmoselle.lu/en/wine-terroir/wine-lights-enjoy