KANNERWÉNGERT - Grape harvest for kids (school classes)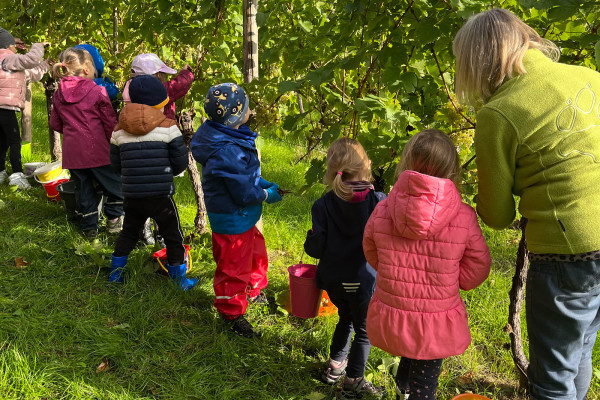 During KANNERWÉNGERT children can playfully and practically learn interesting facts about viticulture and grape harvesting. During the activity, they produce their own grape juice, which they can then taste immediately. An activity full of discovery exclusively for school classes and maison relais.
Production of own grape juice
Playfully learning interesting facts about viticulture
Authentic experience in the vineyard
Included

- Experienced guides
- grape juice tasting
- small snack

Not included

Transport to the vineyard

Duration
150 Minutes
Bring along

Two supervisors/teachers are needed for this activity.

The teaching staff is obliged to support the guides during the activity and to supervise the children. 

In case of allergies, the teaching staff shall please inform the tour guide.

 

Participants
1 group ticket = maximum 20 children accompanied by a guide. Maximum 3 groups at the same time.
Categories
Leisure Activities
Languages
German, Luxembourgish
Opening hours
09/09/2024 – 09/27/2024
Mon, Tue, Wed, Thu, Fri 13:30 - 16:00
Tue, Wed, Thu, Fri 09:00 - 11:30

Requirements

The following clothes are needed for this activity:

- "old" clothes that can get dirty
- cap against the sun
- rubber boots to change into

The children should bring:

- a small bottle with water
- 1 cup/mug to drink from
- 1 bucket (5 liters) for the grapes
- washcloth or small towel for washing hands in a small plastic bag

The teachers should bring:

- Large bin liner
- 2 large bottles for some grape juice to take away

In case of allergies, please let the teaching staff know.

Important information

Organizer: Office Régional du Tourisme - Région Moselle Luxembourgeoise a.s.b.l.

The guides might also like to take some pictures during the activity. By participating in the activity, parents agree that these pictures might be used later for promotional purposes if necessary. In case the parents do not agree to this, please inform us in writing at info@visitmoselle.lu
The teaching staff is asked to communicate this information to the parents in advance.
Venue
The location of the grape harvest is decided by the winemaker and communicated to the customer at short notice.

52 Route du Vin, 5405 Schengen, Luxemburg
Offered by
Visit Moselle
5405 - Schengen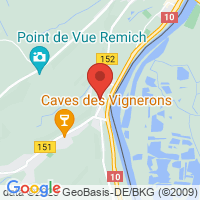 Further information
"Kättche, Kättche, bréng mer nach ë Pättchen, vun der Musel a soss keen...". You may already have heard this typical Luxembourgish mosellan song and asked yourselves how this "Pättchen", which means wine, is actually produced or even tastes? Unfortunately, you are still a bit deprived of this experience, but don't worry, the most important thing for making wine is of course the grape, with which you can produce a wonderfully refreshing grape juice and which is even a treat for the smallest of you.So off to the vineyard you go! Under expert guidance, you'll be allowed to get hands-on with the grape shears adapted for children and produce your own grape juice, which you can taste immediately.
Duration: 2.5 hours
Age: Primary education cycle 2 to 4 and secondary education
Languages offered: Luxembourgish, German
IMPORTANT INFORMATION:
The grape harvest period is highly weather dependent, so please be flexible. The activity will not take place in heavy rain.
In case of payment on invoice, please send your booking request to booking@visitmoselle.lu
For terms and conditions please view the pdf in the download section
Interesting handout for primary schools "Komm mit in den Weinberg" (only available in German):
https://www.lebendige-moselweinberge.de/doc/dlr_paed20.pdf
More offers from this partner