Early bird kayak tour in Lultzhausen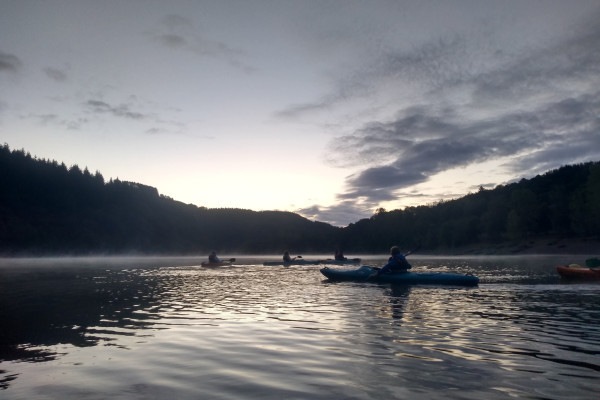 Want to experience the sunrise in a special way? Sign up for the early bird kayak tour. The 90-minute tour starts at 5:30 a.m. and is accompanied by a kayak trainer and a local guide. Breakfast included after the tour. Overnight stay possible. Children (from 10 years) only in company of an adult!
Guided sunrise kayak tour for adults and children aged 10 and over.
Nature, flora and fauna in combination with water sports on the Upper Sûre reservoir
Breakfast buffet after tour, overnight stay also possible
Upper Sûre Nature Park in the Éislek region
Suitable for families
Included

Guided tour
Boat and life jacket hire
Breakfast
Overnight stay in a shared room if this offer has been booked

Not included
Duration
3 Hours
Bring along

Swimwear and clothes to change
Sturdy shoes that can get wet
Waterproof daypack (can be borrowed at the youth hostel) with your own water bottle
Admission ticket sent by mail upon confirmation.

Participants
Minimum of participants: 6 persons Maximum: 12 persons

Spectators free of charge
Important information

Wear sturdy shoes (no flipflops) and bring your own water bottle, swimwear, soap and towel.
Participants must have no medical contraindications to practising water sports.
All participants are obliged to wear a life jacket (provided by the youth hostel).
All participants, children and teenagers as well as adults, must be able to swim (for at least 15 minutes).
This offer is primarily aimed at adult participants. We are happy to welcome participants with a minimum age of ten years accompanied by a parent/guardian to this tour.
Private items can be taken onto the water at your own risk and responsibility. However, the youth hostel cannot be held liable for destroyed or lost items.

Terms of cancellation

In case of cancellation less than 2 days before the date or in case of no-show, the value of the activity will be incurred.
In case of cancellation less than 1 week before the date, a charge equivalent to 50 % of the value of the activity will be incurred.
In case of cancellation less than 2 weeks before the date, a charge equivalent to 25 % of the value of the activity will be incurred.

Image rights

Unless stated otherwise, the participant and/or his legal representative agrees that by participating in this event, he may be photographed or filmed and that these photographs or videos may be published in the press or be used for any non-commercial purposes in direct context with the concerned activity. The participant agrees to the fact that with the release of the photographs/videos, he is not entitled to any payment.
Further information
Experience the sunrise on the Upper Sûre Lake on a very special kayak trip. With a maximum of 12 participants, we leave at 5.30 am and greet the dawn from the kayak. Afterwards, we end the trip with a delicious breakfast at the youth hostel Lultzhausen.
Book your Early Bird kayak trip now.
Prices:
52 € (guided kayak tour and breakfast included for members)
57 € (guided kayak tour and breakfast included for non-members)*
85 € (1 overnight stay, guided tour and breakfast included for members)
95 € (1 overnight stay, guided tour and breakfast included for non-members)*
* Those who are not yet members can apply for membership in advance and save a lot of money. The card can be applied for directly online on the website: www.youthhostels.lu
Venue:
Youth Hostel Lultzhausen